Getting to Know Kristen Basden 
Alert
03.31.2022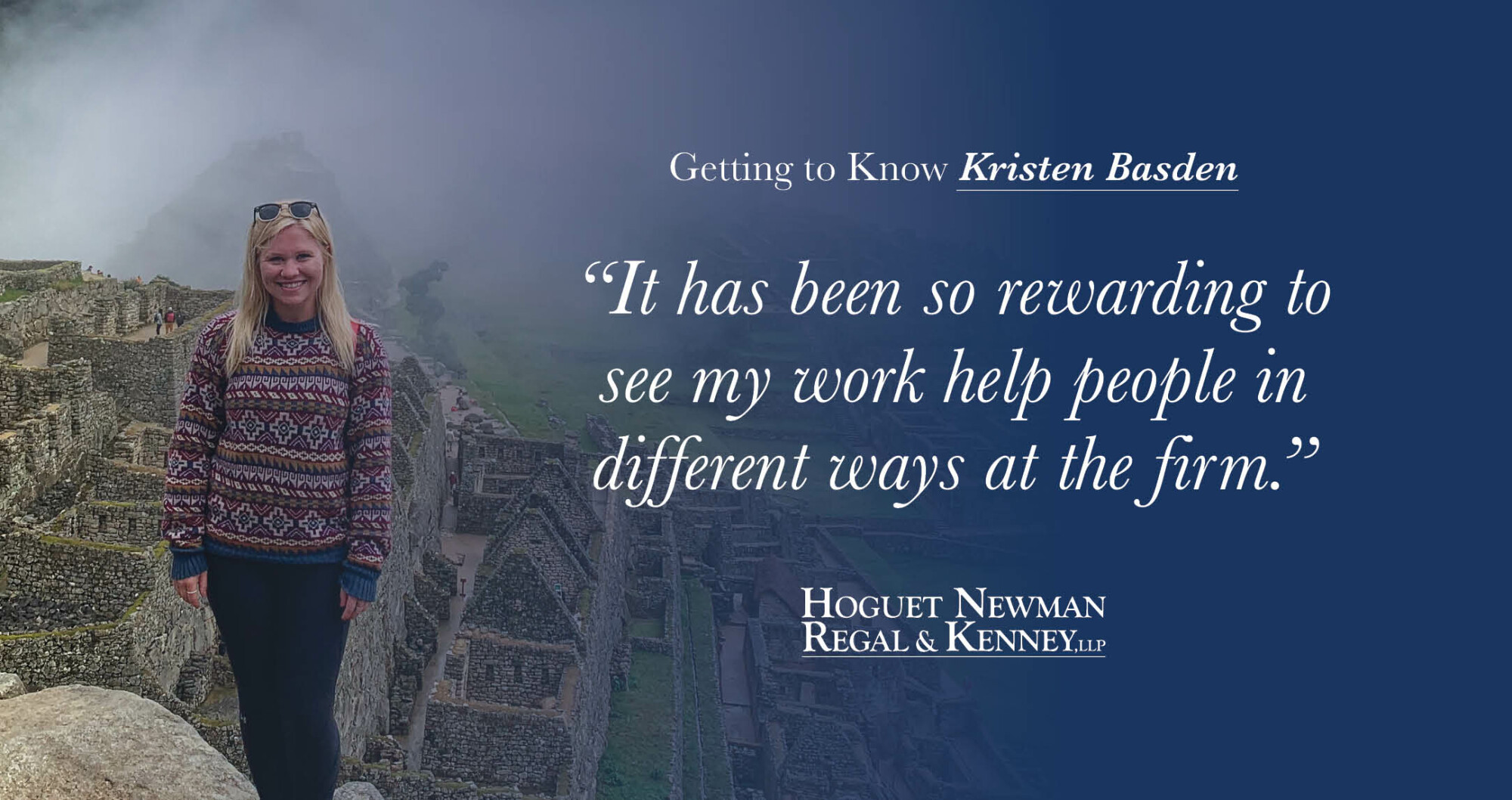 Getting to Know: Kristen Basden
Kristen Basden is the Manager of Human Resources & Administration at Hoguet Newman Regal & Kenney, LLP. She began her career at HNRK in 2017 as a legal assistant before being promoted to senior administrative coordinator in 2018. She was most recently promoted to her current role in January, where her responsibilities include benefits administration, onboarding new employees, implementing effective onboarding and training programs, and coordinating and delegating tasks with other staff and lawyers. A bit more about Kristen follows.
As a women-owned boutique based exclusively in New York, HNRK is a unique place to work. What drew you to the firm?
I was immediately drawn to HNRK given its status as one of New York's first women-owned law firms and the number of highly accomplished women working at the firm. As a young woman entering the workplace for the first time, I was excited to be in that environment, and it was easy for me to see that the firm really cares about its people. All of the above still stands true and still inspires me, five years later.
What is the most rewarding part of your job?
It has been very gratifying to be able to grow as a professional, while managing others by giving them the space to learn and also develop professionally. I have been very lucky to learn so much from the bright individuals at HNRK, and I'm given the opportunity to share my ideas and implement them in various areas. It has been so rewarding to see my work help people in different ways at the firm.
How has your role changed throughout the pandemic?
It has changed quite a lot! When the pandemic started, I was tasked with creating a foundation and day-to-day structure so that administrative remote work could be efficient and engaging. I worked to navigate the changing needs of HNRK and my role by assessing immediate demands and taking action.
Out of all the places you've traveled to, which is your favorite and why?
It's a tie between India and Morocco. Both places feel so different than the other parts of the world that I have seen. I crave places with a "foreign" feeling. I am so curious as to what is out there and to travel to new locations—it's a good feeling to be uncomfortable because you are putting yourself out there by exploring, listening, and learning just for yourself.
What is one thing most people don't know about you?
One day I intend to sail around the world!