Getting to Know: Emanuela Ambrosio
Alert
04.27.2022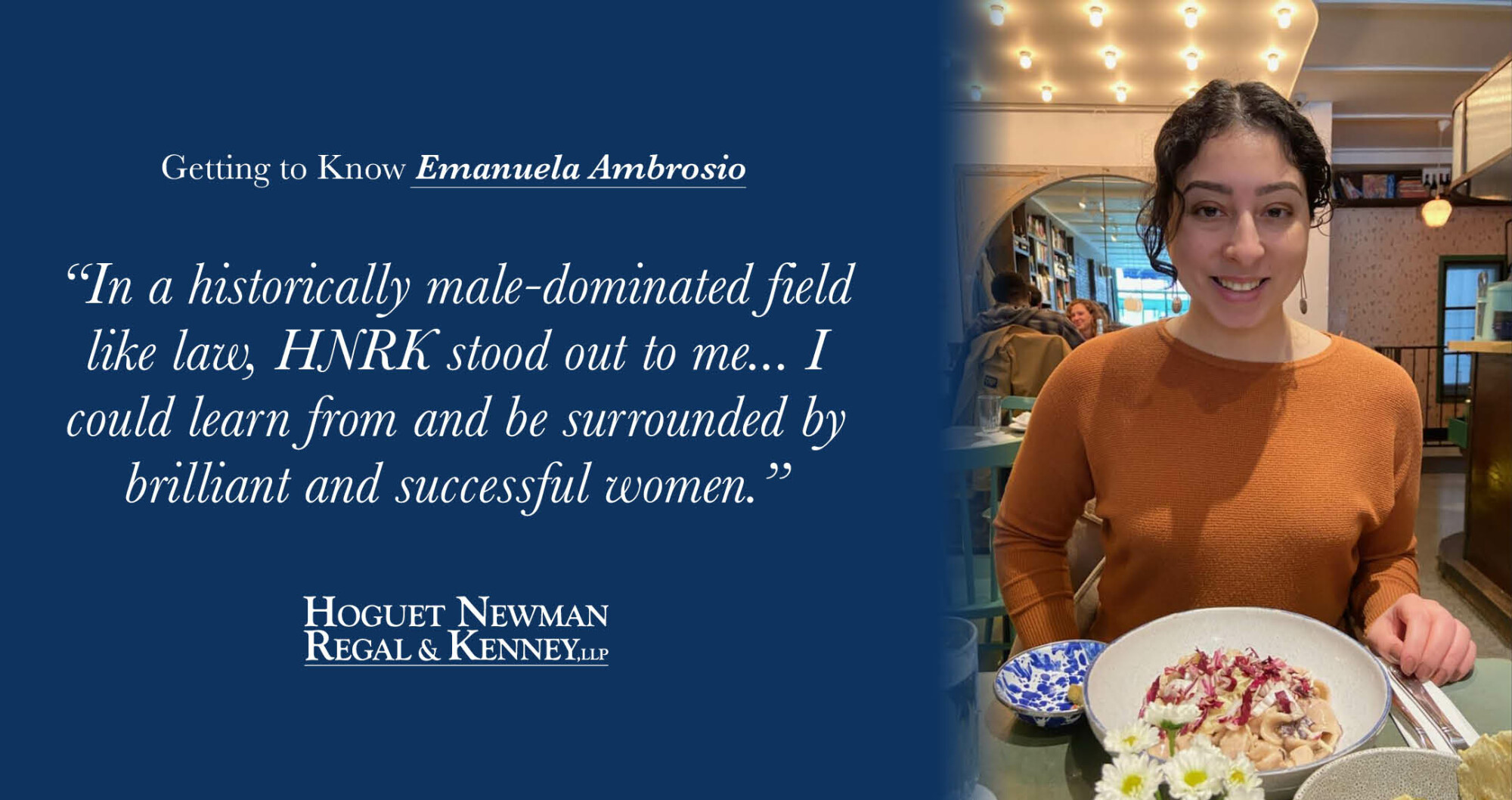 Emanuela Ambrosio, administrative coordinator at Hoguet Newman Regal & Kenney, LLP, began her career at the firm in 2016 as a receptionist. Over the years, she has taken on a range of roles and responsibilities. In February of this year, she was elevated to her current role, where she is responsible for onboarding new administrative talent and associates, conducting legal research, planning firm social events, and communicating with vendors. A bit more about Emanuela follows.
As a women-owned boutique based exclusively in New York, HNRK is a unique place to work. What drew you to the firm?
In a historically male-dominated field like law, HNRK stood out to me for several reasons. I knew I wanted to work at a firm where I could learn from and be surrounded by brilliant and successful women. Being able to do so from the comfort of a smaller firm was also particularly attractive to me. The fact that the firm is located in the heart of New York City, one of the greatest cities in the world, was just an added bonus.
What is the most rewarding part of your job?
Being able to take all of the information I absorbed over the past five years and funnel it into mentoring those on our legal assistant team is really rewarding for me. I love working with a team and seeing my advice help others succeed.
How has your role changed throughout the pandemic?
In the past two years, I've held three different positions within the firm, so you can say it's changed a lot. In my current role, as the administrative coordinator, I am more involved in the firm's inner workings, including helping to navigate some of the challenges presented by the pandemic and other developments in the way law is being practiced today. Before the pandemic, I used to only interact with a few of our attorneys regularly. Now I interact and work with almost everyone at the firm in one capacity or another.
What is your favorite thing to do outside of work?
I really enjoy going out to new restaurants and exposing myself to new culinary ideas. I am always cooking and love challenging myself to recreate dishes I've had out, especially if they use a technique or set of ingredients I don't use often.
What is one thing you cannot live without and why?
Olives! That might sound weird, but I love all kinds of olives. They're my favorite food and will always make my day better.