Getting to Know: Emanuel Konstantis 
Alert
11.28.2022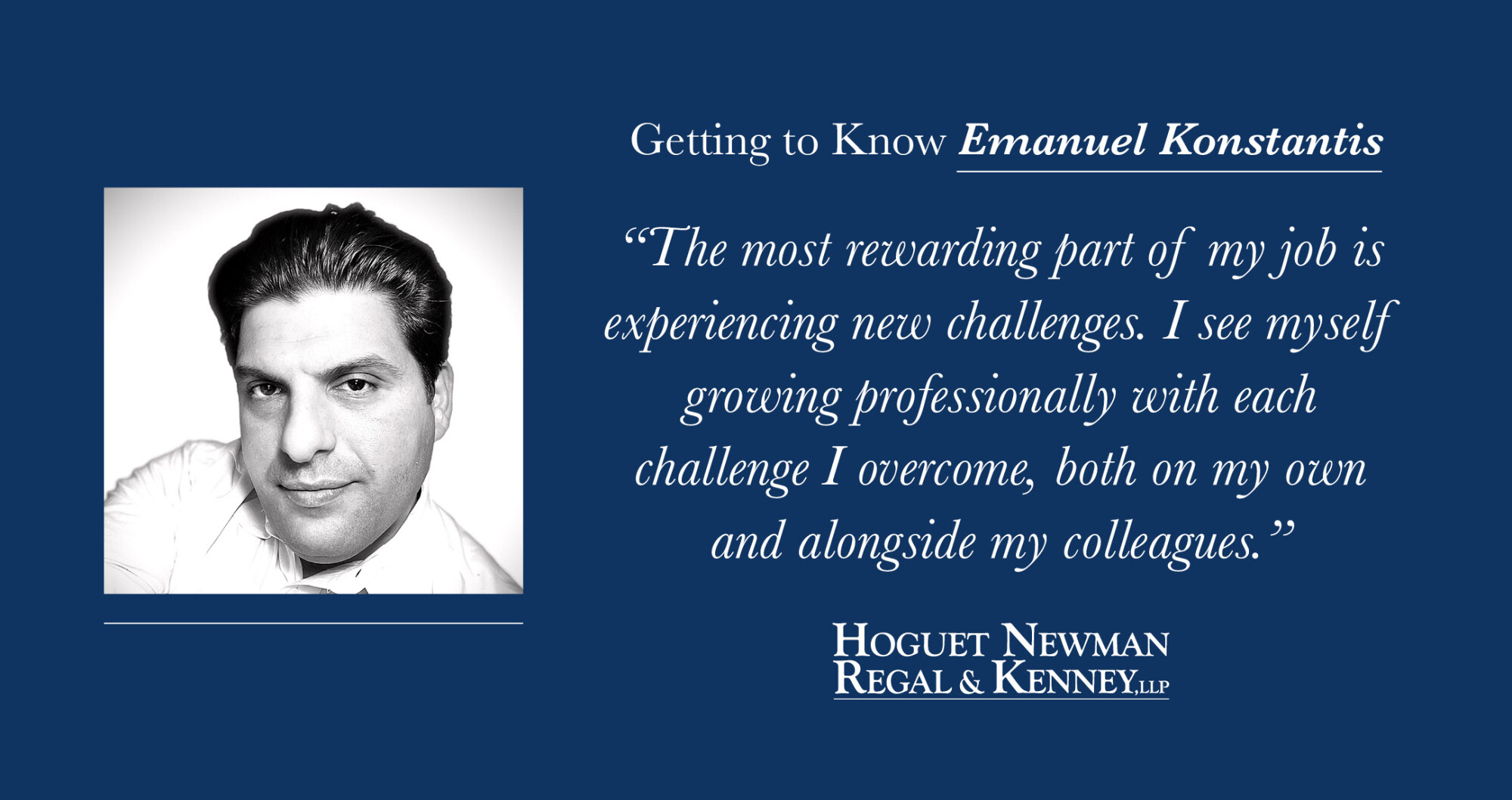 Emanuel Konstantis is the Assistant Controller at Hoguet Newman Regal & Kenney, LLP. Emanuel joined the firm in January 2021, having spent nearly 15 years in the legal industry. He works closely with the firm's chief financial officer, providing a wide variety of assistance, including on accounts payable, accounts receivable, and client billing. A bit more about Emanuel follows.
As a litigation boutique based exclusively in New York, HNRK is a unique place to work. What drew you to the firm?
Among other things, I was drawn to HNRK's prestige. During my recruitment process, I researched who HNRK was as a firm and what clientele retained them for legal representation. I remember feeling impressed by HNRK's roster of clients and what they achieved for them.
What is the most rewarding part of your job?
The most rewarding part of my job is experiencing new challenges. I see myself growing professionally with each challenge I overcome, both on my own and alongside my colleagues.
How has your career evolved since starting at HNRK?
My career has exponentially evolved since leaving my previous position as a billing manager and joining HNRK. Presently, I am more involved with the accounts payable, receivable, and other internal controls of our accounting department. I also use my billing experience to execute a variety of transactions, and meet the changing needs of our clients, vendors, and colleagues.
What is something that most people don't know about you?
I know how to process black and white photography; I can develop photographic films and paper by using various chemical processes. In my experience, black and white photography allows the viewer to be more imaginative, allows viewers to engage in conversation, and can spark the feeling of nostalgia.
What is one thing you cannot live without and why?
My personal computer. I am a very curious individual. I normally find myself asking a lot of questions, particularly about cultures around the world, artists, complex food recipes, history, and self-help. Since my computer can process all of my inquiries in an instant, I like to keep it handy for all my impulsive questions.