Getting to Know: Katherine Michel
Alert
03.01.2023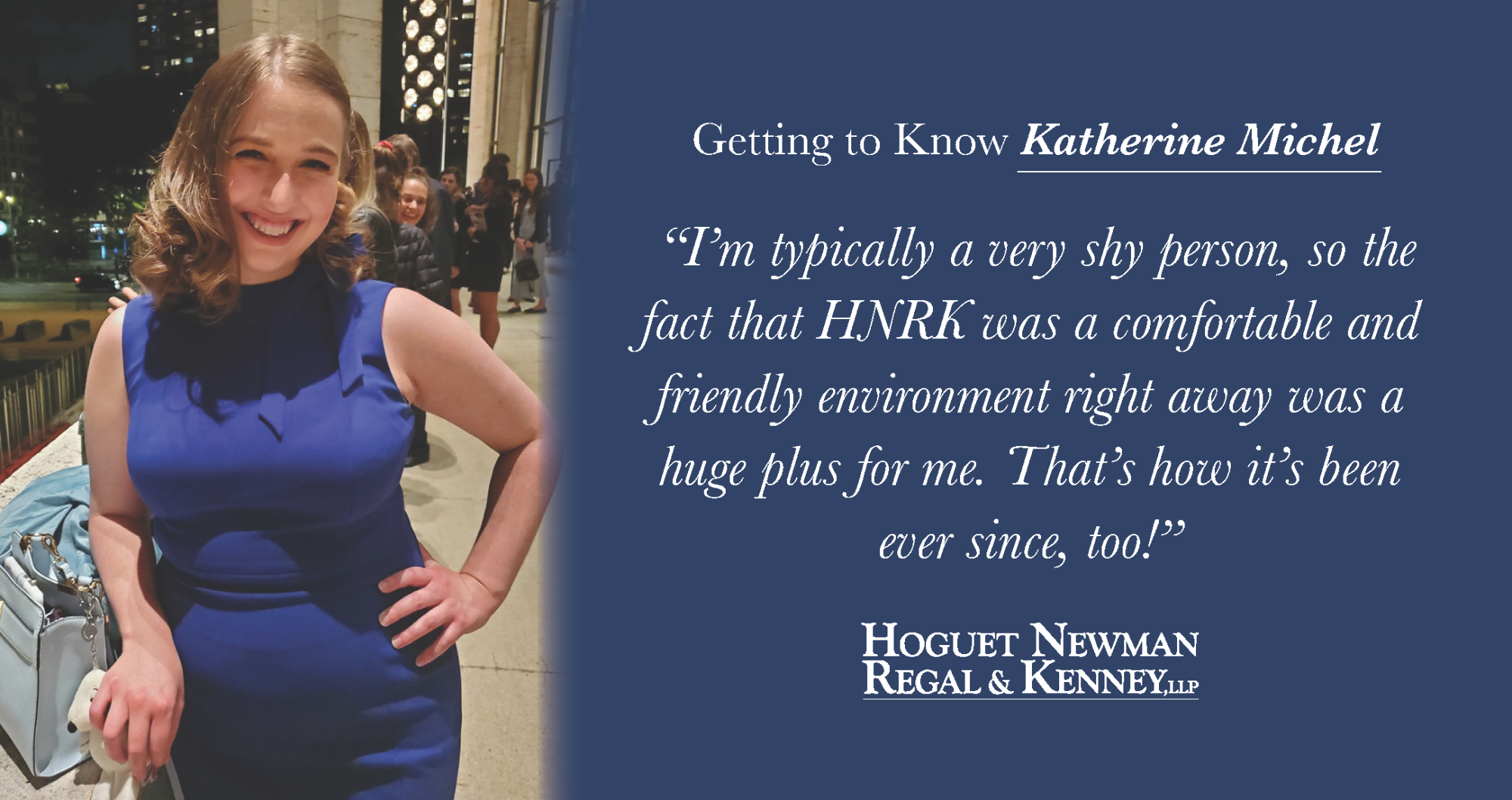 Katherine Michel joined Hoguet Newman Regal & Kenney, LLP in July 2022 as a legal assistant. Before joining the firm, Katherine was an administrative assistant at Fragomen, Del Rey, Bernsen & Loewy LLP. She currently supports a team of litigators at HNRK and serves as a point of contact for co-counsel, clients, court personnel, and other legal professionals. Katherine received a B.A. in history from SUNY Purchase and a masters in public/applied history from Southern New Hampshire University. Get to know Katherine below:
What drew you to HNRK?
As weird as it may sound, the atmosphere. I remember coming to HNRK for my job interview, sitting down in the lobby, and immediately striking up a conversation with Leo, who at the time was working at the front desk. This atmosphere only continued with the two people I interviewed with (and now work directly under). I'm typically a very shy person, so the fact that it was a comfortable and friendly environment right away was a huge plus for me. That's how it's been ever since, too! People are very easy to talk to here and are very understanding and accommodating to circumstances outside of work.
What is the most rewarding part of your job?
Learning about the state judicial system and getting to take an active role within! I was a history major, so I didn't exactly come in with a huge amount of knowledge of the legal industry. There's been a lot of on-the-job learning that I've benefitted from.
How did you become interested in the legal industry?
Honestly, television. More through true crime documentaries and less Law and Order-like shows, but that was certainly part of it. Additionally, one of my cousins is an immigration lawyer who was more than willing to talk to me about the realities of the legal field and the current job market.
What is your favorite thing to do outside of work?
Cook, write, and read both novels and comics! Costume drama movies and TV shows have been a favorite for the past few years. I've gotten into the habit of taking note of the historical inaccuracies. I also recently learned how to knit, and tiring out my one-year-old dog is a full-time job.
What is something that most people don't know about you?
I really love ballet. I only danced for a few years in college, but I try to see as many live shows as possible. I follow every ballet company I can on social media! Growing up, I also was a huge theater kid and I can't say I've ever grown out of it.