Getting to Know: Lorrette Fisher
Alert
03.31.2023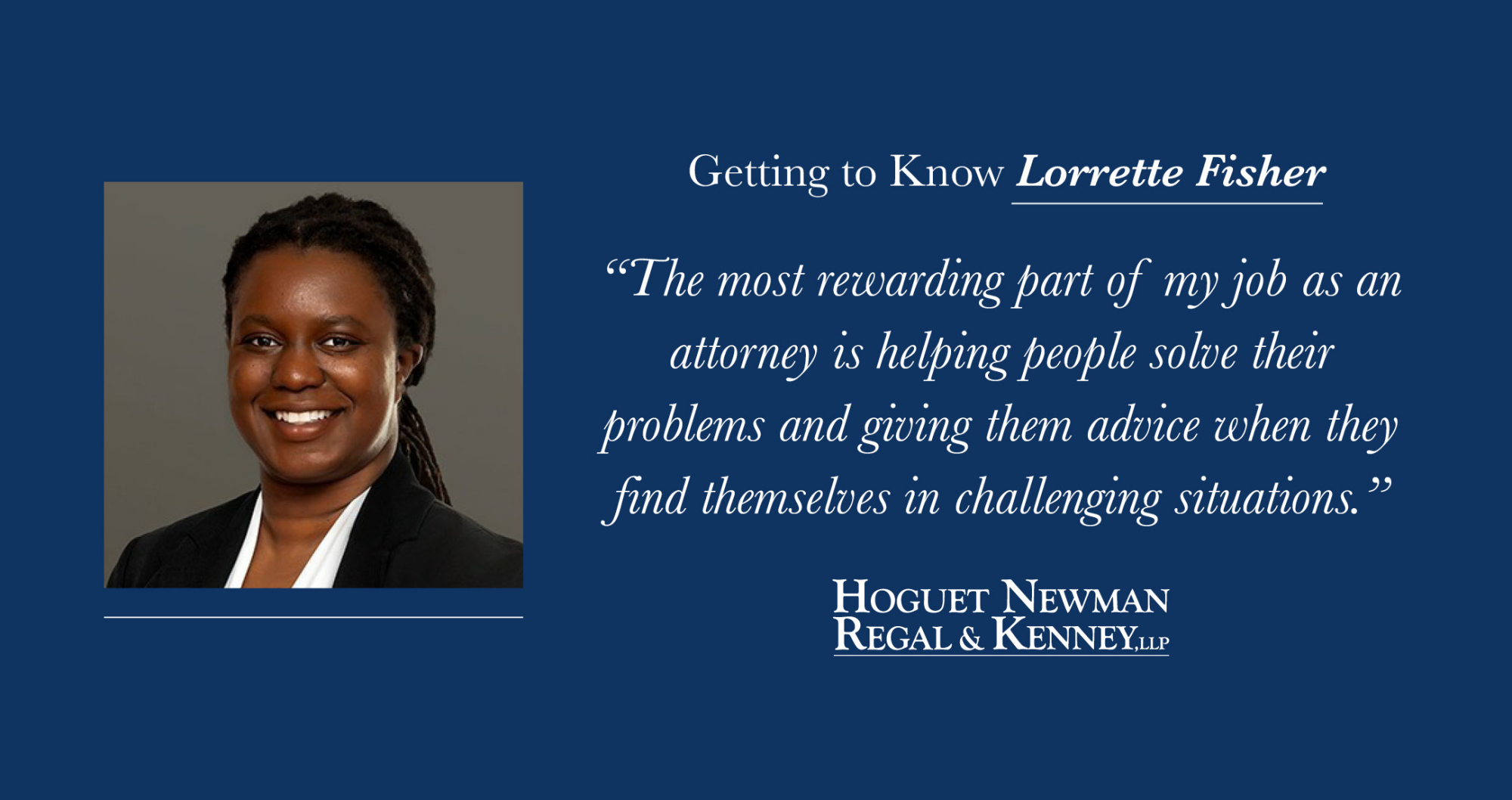 Lorrette Fisher, an associate at Hoguet Newman Regal & Kenney, LLP, is an experienced litigator who has handled all aspects of litigation including pleadings, discovery, motion practice, and settlement negotiations. Before joining HNRK in June, Lorrette was an associate at Maune Raichle Hartley French & Mudd, LLC. A bit more about Lorrette follows.
As a women-owned boutique based exclusively in New York, what makes HNRK a unique place to work and what originally drew you to the firm?
I was originally drawn to HNRK by its deep bench of talent and the firm's commitment to maintaining and improving diversity in the legal profession. I was also attracted to the firm's model that enables associates to work closely and directly with partners and provides ample stand-up opportunities for associates, including handling depositions and second-chairing trials.
What is the most rewarding part of your job as an attorney?
The most rewarding part of my job as an attorney is helping people solve their problems and giving them advice when they find themselves in challenging situations. As a litigator and trial attorney, I'm usually meeting people when things haven't gone as anticipated and they're trying to find their way out of an unfavorable circumstance with as little damage and disruption as possible. Bringing some ease and comfort to these situations is immensely fulfilling.
What was your biggest takeaway from clerking for a New York State Supreme Court Justice and how has it informed your career since?
My biggest takeaway from clerking was seeing directly how the law impacts the lives of everyday people, and more broadly, remembering the human element in what we do as lawyers. Because the practice can sometimes involve a lot of isolated and academic work, it is easy to slip into a narrow focus on the rules and principles and to forget that what happens in the courts has significant real-world consequences in people's lives. Bringing that to the fore as I contemplate how to approach legal issues and resolve disputes has made me a stronger attorney.
What is your favorite thing to do outside of work?
My favorite thing to do outside of work is to spend time talking and laughing with family and friends, which includes hosting game nights (Bananagrams and Code Names are household favorites) and dinner parties, or just gathering for no reason at all. Otherwise, I enjoy playing tennis, visiting museums, working with the non-profits I am involved with, and flexing my green thumb with my house plants and small crops.
What is one thing you can't live without and why?
My family. We are a far-flung but close-knit bunch, and the love and support they have given me throughout my life are indispensable.