Getting to Know: Bonnie Trunley
Alert
08.22.2023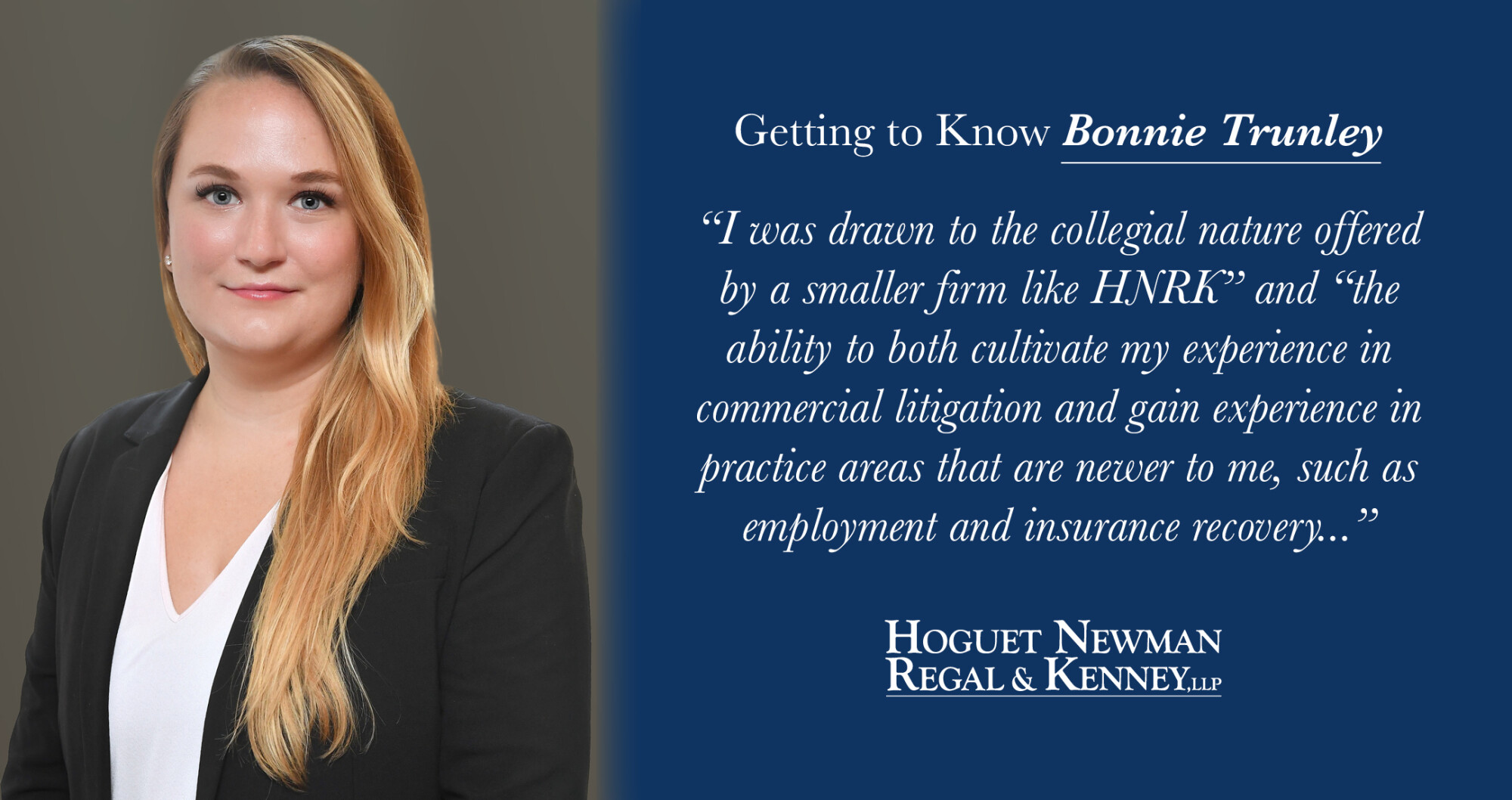 Getting to Know: Bonnie Trunley
Bonnie Trunley, an associate at Hoguet Newman Regal & Kenney, LLP, is an accomplished litigator with extensive experience in commercial litigation and internal investigations. Before joining HNRK in September 2022, Bonnie was a litigation associate at Cahill Gordon & Reindel LLP, where she represented financial institutions in a variety of complex commercial litigation matters and internal investigations. A bit more about Bonnie follows.
As a women-owned boutique based exclusively in New York, HNRK is a unique place to work. What drew you to the firm?
I was drawn to the collegial nature offered by a smaller firm like HNRK, the ability to both cultivate my experience in commercial litigation and gain experience in practice areas that are newer to me, such as employment and insurance recovery, as well as the ability to practice at a women-owned firm in what remains a largely male-dominated industry.
What is the most rewarding part of your job as an attorney?
Getting to work with and help people, and in particular, being able to assist individuals and small businesses in solving problems they would not otherwise be able to resolve without the support of legal counsel. The feeling of attaining a positive outcome for my clients is very fulfilling.
Having spent the majority of your career focused on commercial litigation and internal investigations, what drew you to these particular practice areas?
I was drawn to these practice areas because they allow me to challenge myself with new and different factual scenarios, giving me the opportunity to learn something new about the law and how it works with each new case I take on. For internal investigations specifically, I enjoy the fact-finding process and attempting to discover the reality of what happened to assist my clients in deciding the best course of action.
What is something that most people don't know about you?
Nearly two decades ago, I started a collection of ticket stubs from all the movies, concerts, and shows I have attended, as well as boarding passes from flights I've taken. Although, in recent years, new additions to my collection have dwindled with the proliferation of electronic tickets
What is one thing you cannot live without and why?
My cat, Mr. Monaco, and his morning head bumps that wake me up each day. An honorable mention also goes out to my SodaStream, which both fuels my seltzer water addiction and helps to cut down the volume of my weekly recycling significantly.