Getting to Know: Terrence Zhang
Alert
10.18.2023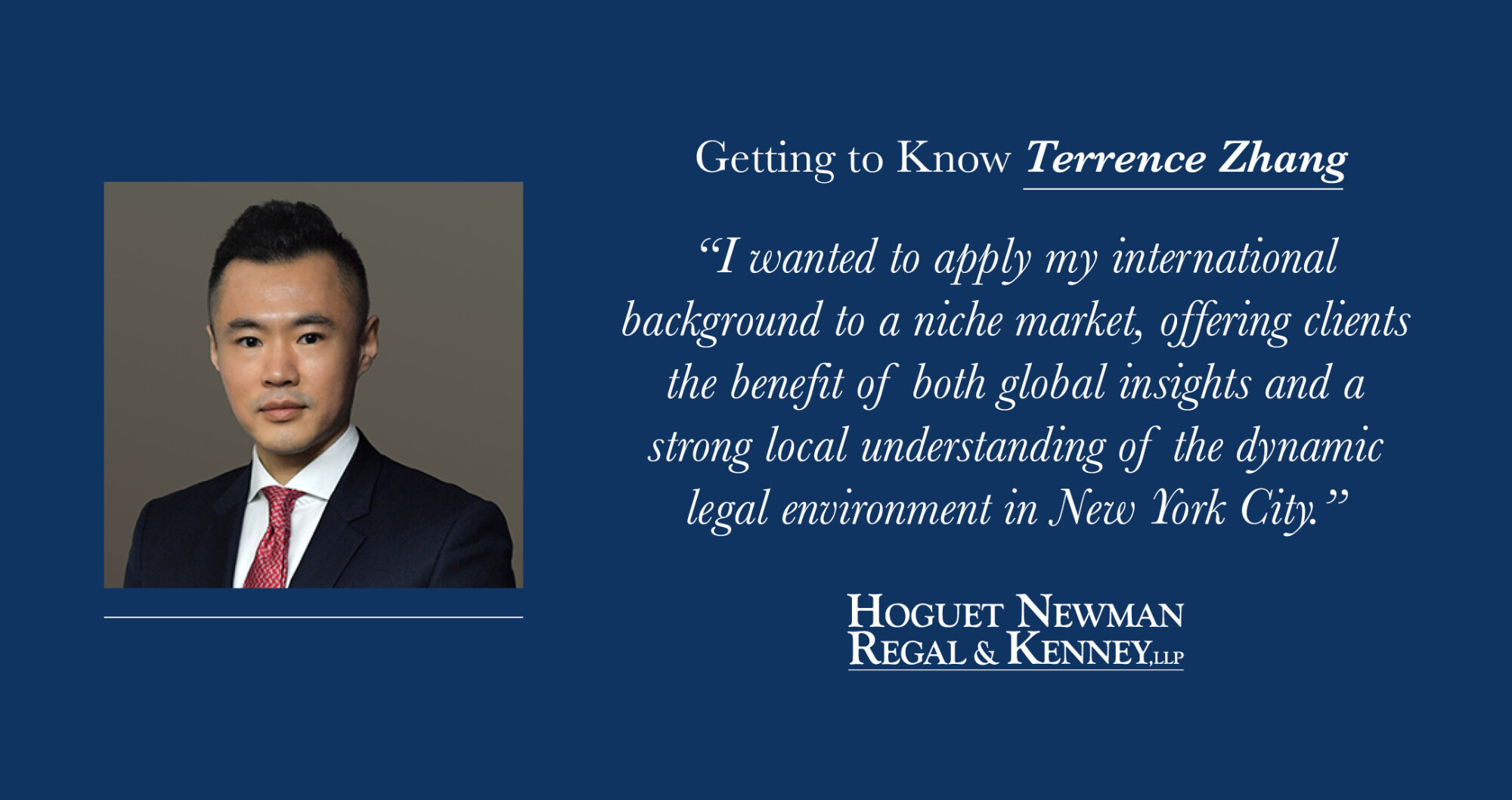 Terrence Zhang, an associate at Hoguet Newman Regal & Kenney, LLP, is an accomplished litigator with experience in commercial disputes and international regulatory compliance matters, including white-collar crime, corporate compliance, government and internal investigations, economic sanctions, and export control. Before joining HNRK in November 2022, Terrence was an associate at White & Case LLP in Beijing, China. A bit more about Terrence follows.


As someone who has previously worked internationally at White & Case LLP and in the Integrity Vice Presidency unit of the World Bank, what drew you to HNRK, a boutique firm based exclusively in New York?
It was a desire of mine to become more specialized and focus on a specific area of the law. While my previous roles provided a global perspective and valuable experience, I was drawn to HNRK's deep expertise in the New York legal landscape and the firm's reputation for handling complex litigation matters. I wanted to apply my international background to a niche market, offering clients the benefit of both global insights and a strong local understanding of the dynamic legal environment in New York City.


What is the most rewarding part of your job as an attorney?
For me, it is the chance to make a positive impact on people's lives by safeguarding their rights, and to contribute to a more just society that fosters trust and accountability in the legal system.


What was your biggest takeaway from clerking at the Disclosure Unit in the United States Office of Special Counsel in Washington, D.C. and how has it informed your career?
My biggest takeaway from this experience was the critical role that whistleblowers play in ensuring the integrity and accountability of government agencies and institutions. This experience instilled in me a commitment to uphold the highest ethical standards and advocate for transparency in both the public and private sectors, and taught me the significance of protecting individuals who come forward with information about wrongdoing and misconduct. Whether in private practice or in any other professional endeavor, this fundamental lesson has guided me in promoting fairness, integrity, and accountability as essential pillars of my legal career.


What is your favorite thing to do outside of work?
Outside of work, I love being in nature. I am also a triathlete – I love to swim, cycle, and run. These activities not only keep me physically fit but also provide me with a sense of freedom and serenity.


What is something that most people don't know about you?
Most people are surprised to learn about my passion for scuba diving, including deep dives exceeding 100 feet in the ocean. It's an activity that brings me immense joy and allows me to explore the mesmerizing scenery that covers 70% of our planet.