Getting to Know: Wendy Tsang
Alert
10.12.2022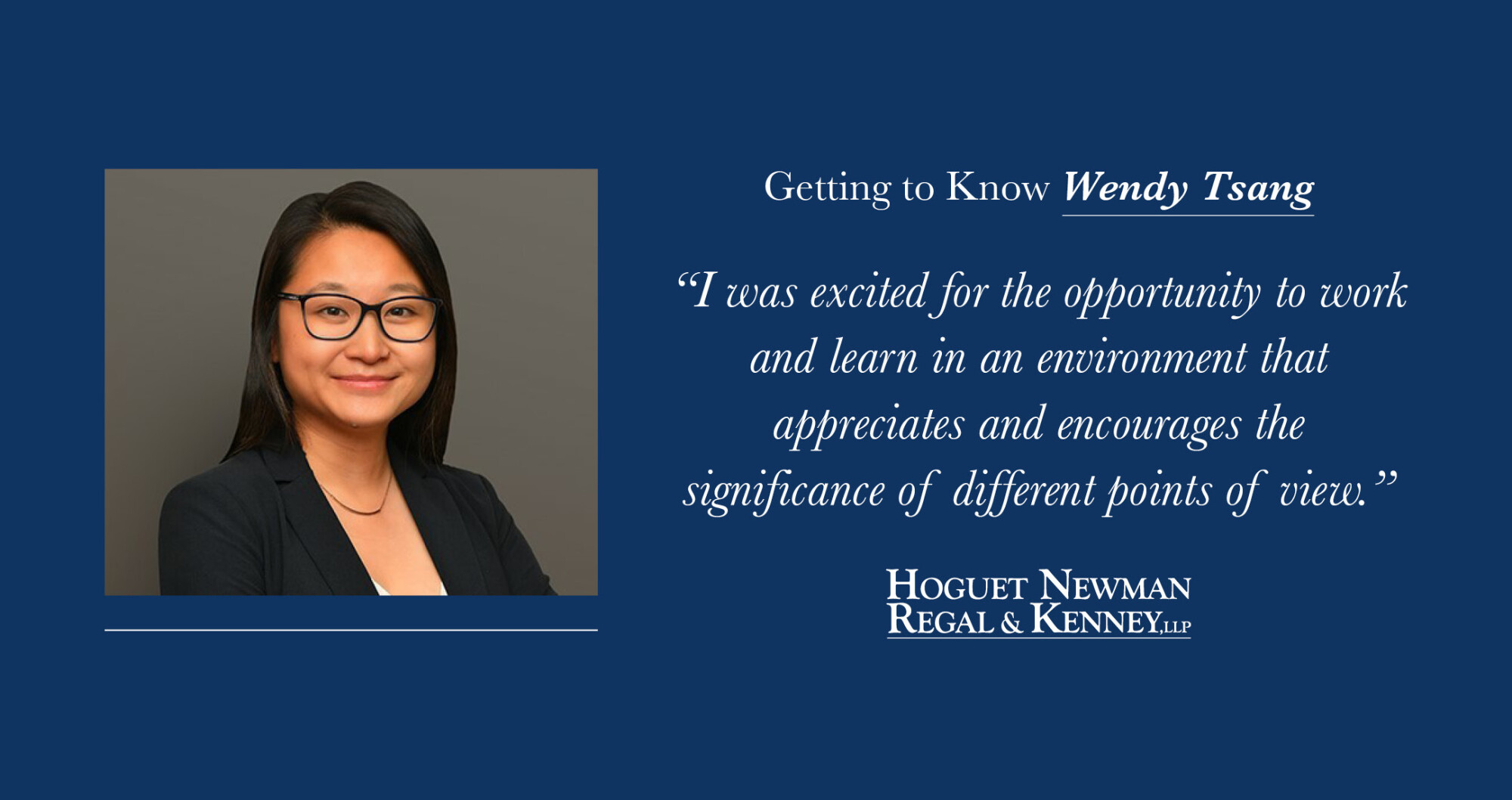 Wendy Tsang recently joined Hoguet Newman Regal & Kenney, LLP as an associate. Wendy utilizes her past experience in class action securities cases, data privacy cases, and consumer protection cases to litigate on behalf of our clients. Before joining HNRK, Wendy served as a litigation associate at Labaton Sucharow LLP, where she prosecuted complex securities fraud cases on behalf of retail and institutional investors. A bit more about Wendy follows.
As a women-owned boutique based exclusively in New York, HNRK is a unique place to work. What drew you to the firm?
I was drawn to HNRK because it is a women-owned boutique firm and has so many accomplished women attorneys that are part of the firm. The thought of having more women attorneys than male attorneys in a room was very refreshing. After litigating for seven years, I realized that more often than not I was one of the few women attorneys, if not the only woman attorney, at court conferences and depositions. I was excited for the opportunity to work and learn in an environment that appreciates and encourages the significance of different points of view.
What is the most rewarding part of your job as an attorney?
The most rewarding part of being an attorney is being able to help a client in need. In litigation, whether you are a plaintiff or a defendant, you are in litigation because of a dispute. These disputes can be very stressful for a client. Therefore, having the tools available to help a client navigate a dispute, counsel a client through a dispute, and alleviate the stress and emotion from such a dispute is very rewarding.
What was your biggest takeaway from serving as a Judicial Extern under the Honorable Colleen McMahon?
The biggest takeaway was the exposure to the various types of cases that were litigated before Judge McMahon. As a judicial extern, I was given the opportunity to research and write for a variety of cases, including prisoner rights cases, fair labor standards act cases, and intellectual property cases. Therefore, I was able to learn the law and analyze the issues on these types of cases. It was also very eye opening to see how judicial decisions were made on such cases.
What is one thing you can't live without and why?
Tea. I cannot live without tea. I was born in Hong Kong and we have a very strong tea culture. At any given point, I have over half a dozen types of teas at my house to suit every occasion and every mood.
What is your favorite thing to do outside of work?
My favorite thing to do outside of work is to spend time with my two dogs.